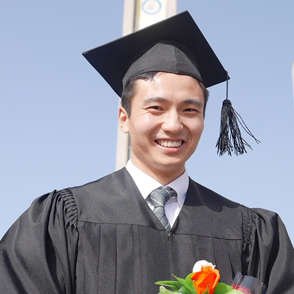 Such an privilege! Recalling my four years Handong Global Univ. (HGU) life, I don't think that I am qualified to give some advice to anyone. But this is my testimony about HGU, the only school I have ever been so proud of so far! Dropping out from one of medical schools in China after two years' study, as a nonbeliever, I chose, OR I was chosen, to enter HGU in 2011.
Beginning was tough as usual, especially when I didn't know God, PERSONALLY. But now all the rough I have been though became the treasures that I value. HGU is the place I feel home, because it is such a loving community firmly founded on biblical principles, consisted of spiritual-guiding, shepherd-like pastors, knowledgable and sacrificial professors, faithful and hardworking staffs, and gifted and energetic students.
HGU, God's Univ., where the called ones come, and get cultivated and equipped, and be send out to reconcile the lost to God. It has such a great eco-system to help me, (and many others for sure) to grow to the one God has intended. Same with many others, if not everyone, I was confusing about my future, wondering what I am passionated about. I tried so many ways, and asked so many people, hoping that I could somehow figure it out by myself. But who knows me (us) better than God does? HGU is a great place to know God and develop PERSONAL relationship with the DIVINE God. Pastors and professors are almost always there to help; lots of chances to serve in that community, which I found one of the best way to learn what I am really good at and passionated about; great resources in the Oseok library and professors' personal libraries to help grow in the knowledge of God; dedicated peers who love God are around to challenge and sharpen me. As I am deeply grounded in God, I had a much better understand about myself—Who am really are; what is my calling; how should I live my life?…It is all in Christ—less worry and confusion about future.
HGU is far from perfect, and it has a long way to go, yet. But it is THE school, i would like my children, if I will have, to attend. 'WHY NOT CHANGE THE WORLD' HGU-ers, let's join together to change the world for better by giving the best you can.