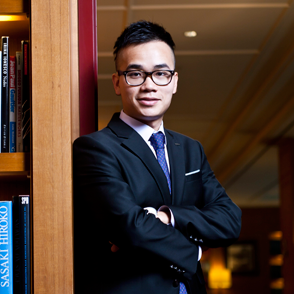 "Why not change the world?". The university with such great vision forever inspires generations of students from not only Korea but other countries around the world. And to talk about my personal experience with Handong Global University would take days indeed. Yet, within the limited boundaries of this sharing, I would like to mention about three aspects of my Handong life: academic, self-development, and spiritual aspects.
First of all, regarding academic learning, Handong offered me a wonderful chance to study and widen my knowledge of the world. Soon after entering the university in 2008, I chose to do double majors in Global Management and US & International Law. For the former, most of my classes were organized into different groups where the groups had to complete the assigned projects throughout the semester. Doing group projects brought about many benefits for us such as learning to cooperate, learning to respect others' differing viewpoints and thus build our synergy. For US & International Law, on the other hand, many of my classes were conducted in round-table-discussion type where students were encouraged to voice and elaborate on their opinions based on a variety of schools of thoughts in the field. Besides theoretical learning, practical learning with hands-on experience was also available to me during my study. For example, I had such a wonderful privilege to participate in a summer program called GBEX conducted by Professor Strombeck where I visited big corporates and had talks with their executives in Asia Pacific. Another example would be the fierce yet exciting mock trial competition carried out by Law and Advocacy group under the strong leadership of Professor Schulten.
Secondly, Handong had the most unique faculty comprised of professors who would go out of their way to help me discover the most about myself and my career direction. Classes by Professor Fowler pushed me to re-examine myself at all time to find out my strengths, my weaknesses, and my vision for the future. All of these worked together helping me establish the foundation for my career direction and career development plan. Additionally, all Handong professors tried their best to make themselves readily available to students to answer their questions regarding various aspects of life. For instance, it was not difficult to schedule a meeting with a team professor to discuss about my concerns for future job after graduation.
Lastly, my spiritual life was much nurtured during my time in Handong. In 1 John 4:12 (NIV), it is written that "No one has ever seen God; but if we love one another, God lives in us and his love is made complete in us". I could see the love of God very vividly in the daily sacrifices my professors made, or in the tough narrow roads to war, poverty devastated lands my classmates chose to go to after graduation. On top of it all, the love of God was shining in students' and professors' intercessory prayers days and nights at different corners of Handong campus. Being amazed and touched by these, I also chose to pursue the path of love.
In conclusion, it is certainly not an exaggerating statement that my journey with Handong was a life changing experience shaping me into who I am today. I feel blessed and grateful to all the Handong people who were by my side teaching me and walking with me.