Nationality : Honduras Majors : Education and Psychology/Social welfare Year 2015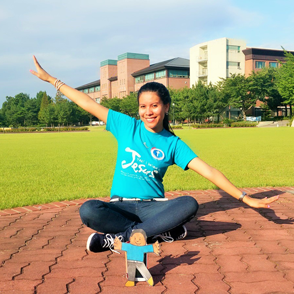 When I think of Handong University I think of it as my home. It is here where I got to meet my spiritual family who inspired me to grow more mature in Christ and to not be afraid of being a world changer. As I look back I realized that throughout my first year of university I have gained much knowledge and experiences; I met many people from all over the world, I have learned so much about their culture. When I just entered the university my way of seeing the universe was so narrow and my dreams were so small. But now, my dream is bigger than I ever expected. I want to change my nation. I want to lead Honduras and other countries out of the road of suffering and into the eternal world of happiness. I'm certain that Handong Global University will make this possible for me. For nothing is impossible with our God.
Coming to South Korea to study, in a prestigious institution such as Handong is one of the greatest blessings God has given me. In this place I can be trained under devoted professors who equips me not only with academic knowledge but also how to use that knowledge to glorify God. Here I can also learn about integrity and leadership. This encourages me to put God as the center of my dreams and vision.
In the process of preparing for a brighter future, I want to be the person who makes positives changes in this world. In my next 3 years here in Handong I hope that I will get to experience God's amazing love even more so that I would reflect that love to others around me. It is my prayer that Handong Global University would always be a place I can consider as home as I bind a life-long friendships with other brothers and sisters in Christ. I love my God, and I love Handong Global University! Patty Diaz /Student from Urraco, Honduras 1/12/2016