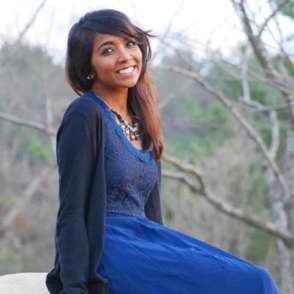 I am Angela Biswas from Bangladesh. In 2012, when I left home, I was a teenager. I had so many questions about myself, my life, and what I was doing in the world. I was insecure and confused. I did not know why I was coming to Korea; honestly I did not even know the purpose of my life. Now I know that God had a great plan in bringing me to HGU. I was the only Bangladeshi in HGU and I had a hard time with everything : studying, eating, communicating etc. I complained and questioned God. I impatiently wanted him to reveal the whole plan all at once. I wanted to know why I was here but he just showed me one tiny step at a time. It was hard for me to trust him and his timing. But I have learned that there is a purpose in our pain. When we are in a difficult season, we may not understand. But believe that our pain is about to be turned into our gain. Frankly speaking, the last 4 years was the most challenging years in my life but definitely they were also the years when I grew the most. The person I was four years ago and the person I am right now are not the same. HGU taught me so many things but I want to share a few things.
1) God should be the center of our lives: Mathew 6: 33 says - But seek first his kingdom and his righteousness, and all these things will be given to you as well.. Focus on God and everything that is meant for you, will come to you.
2) You are stronger than you think – I can do all those things through Christ who strengthens me- Philippians 4: 13
Do not let the negative thoughts rule your mind. Focus on the positive and try to find the silver lining in every situation. You will thrive above all this and you just have to find your light and not being engulfed by the darkness
3) Giving up is not an option:
Isaiah 40: 31 "But those who hope in the Lord will renew their strength. They will soar on wings like eagles; they will run and not grow weary, they will walk and not to be faint."
Keep your faith. Things can turn around right at the moment you are about to give up. In life, nothing happens by coincidence. Often God is teaching and preparing us for something that will come years down the road. So, every morning you have two choices, continue to sleep with your dreams or wake up and chase them. The choice is yours. If God brought you here, it is not an accident. Life is tough but do your best and do not give up.
Handong is a great place to be where you can learn and grow, meet with amazing people all over the world. It's also a place where you can know about God and make him part of your life. Handong life is challenging, but remember, nothing worth having comes easy. Tough times are inevitable. And more often neither that nor our circumstances are beyond our control. But the good news is, we can control how we react to the situation we are in. Our God is an Omniscient and Omnipotent God who has total control of everything. Trust in him and his plan. Do not be a complainer like me. Father God, thank you that you did not leave me in my mess. Help me to never forget your grace.
I have truly been blessed beyond words with this unforgettable experiences and amazing people. "HGU" It's been real.